Luna
Luna is for you who needs a low work chair, such as a kindergarden teacher, working with small children. It has a practical and comfortable seat and backrest, upholstered with cold foam and eg. imitation leather, which is very easy to clean.
This chair is with a 600 mm. plastic base, easy rolling castors and ECON SYNKRON mechanism, making it easy and quick to adjust the angle of the seat and backrest at the same time using just one handle. The seat height is also easily adjusted.
Seat adjustment: 6° forward and 2° back.
Backrest adjustment: 12° forward and 11° back.
Seat: 44 x 44 cm.
Backrest: 37 x 33 cm.
Seat height low office gas spring: 33-44 cm.
3D model and Mixed reality
With this QR code you get the opportunity to visualize your chair in your own environment. Scan it with your mobile phone or tablet and let the model be placed in the real world.
Does not work optimally in Microsoft Internet Explorer. We recommend that you use a different browser. For example Chrome or Firefox.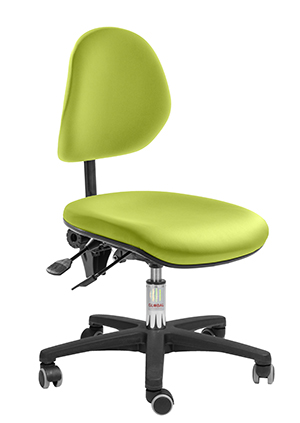 Numéro de l'article: 68 9 087 3 2 0